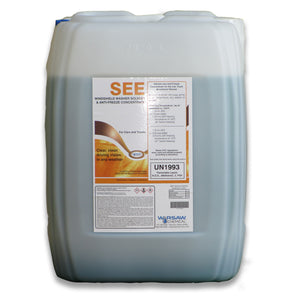 Warsaw SEE Windshield Washer Concentrate w/ Antifreeze - 5 Gal.
Part #:
18W-20762
|
Vendor: Warsaw Chemical
NOTE: This Product is NOT available to ship. Local Delivery or Pickup ONLY
---
Solvent & Anti-Freeze Concentrate for Car, Truck Windshield Washer
Removes road film, dirt, bugs, grime at any temperature, any season of the year
Mainly for winter use
1:10 dilution: -50° F
1:20 dilution: -15° F
Meets VOC regulations when used and diluted properly according to directions.
---
Related Products
---