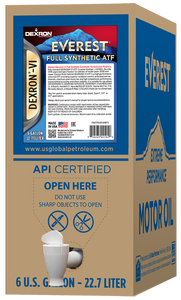 Everest® Dexron VI Full Synthetic ATF - 6 Gal.
Part #:
34-BOXDEXMVATF
|
Vendor: Everest Oils
NOTE: This Product is NOT available to ship. Local Delivery or Pickup ONLY
---
Everest Dexron®-VI Full Synthetic Automatic Transmission Fluid is a licensed and GM® approved, high performance ATF fluid formulated from 100% synthetic base oils and an advanced additive package that meets or exceeds the performance, protection and service requirements of virtually all makes and models of passenger car and light truck automatic transmissions manufactured worldwide requiring a General Motors DEXRON®-VI or earlier generation DEXRON® fluid.
---
Related Products
---