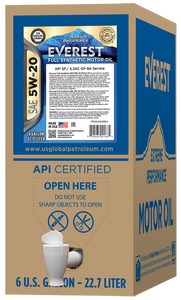 Everest® 5W-20 Full Synthetic Motor Oil - 6 Gal.
Part #:
34-BOXSYN520
|
Vendor: Everest Oils
NOTE: This Product is NOT available to ship. Local Delivery or Pickup ONLY
---
Everest Extreme Performance Full Synthetic Motor Oils are premium quality multi-grade motor oils formulated from selected superior base oils and advance high performance engine oil additive technology.
Benefits & Applications:
API Service Classification SN, SM, SL, SJ
ILSAC GF-5 Service Certification (SAE Grades 5W-20, 5W-30 and 10W-30)
Lower pour point reduces start-up wear during cold weather
Full synthetic oil helps to improve fuel economy
Compatible with conventional oils
Excellent wear, corrosion, and rust protection
Superior resistance to sludge and varnish deposit formation
Designed with premium base stocks for added thermal breakdown resistance
Net Content: 6 Gallons (24 qts.)
There is currently no additional information about this product
---
Related Products
---