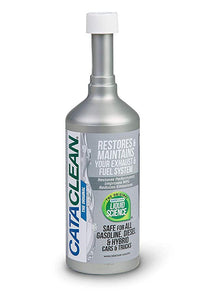 CATACLEAN - Fuel & Exhaust System Cleaner
Part #:
18C-120007D
|
Vendor: CATACLEAN
NOTE: This Product is NOT available to ship. Local Delivery or Pickup ONLY
---
Cataclean is a patented & EPA Approved fuel and exhaust system cleaner that reduces carbon build-up and also cleans your vehicle's oxygen sensors, fuel injectors and cylinder heads. Excess carbon build-up robs your vehicle of horsepower, wastes fuel and increases emissions output. Cataclean helps to reduce carbon build-up and optimizes your vehicles complete powertrain. Cataclean eliminates fuel injector build-up cleaning the fuel system for maximum power production.
Directions for use:
Pour entire contents of bottle into fuel tank

Drive for at least 15 minutes and refuel when necessary

For best results, it is recommended to add one bottle of CATACLEAN to approximately 1/4 tank of fuel.
Net Content: 16 fl. oz.
There is currently no additional information about this product
---
Related Products
---