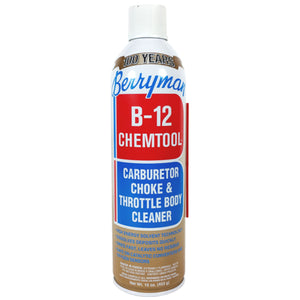 Berryman® B-12 Chemtool® Carburetor, Choke and Throttle Body Cleaner
Part #:
18B-117
|
Vendor: Berryman
NOTE: This Product is NOT available to ship. Local Delivery or Pickup ONLY
---
Quickly dissolves gum, varnish, fuel residues, and other deposits from carburetor, PCV valve, automatic choke, carburetor linkage, throttle body, and distributor shaft 
for maximum performance and fuel economy.
Improves drivability by removing deposits that cause rough idle, stalling, and loss of acceleration. Available in a variety of sizes to accommodate any job. Catalytic converter and oxygen sensor-safe.
There is currently no additional information about this product
---
Related Products
---